In Memory
John Allen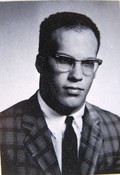 John Drury Allen, 76, of Muskego, died December 29, 2020, with Louise, his beloved wife of 50 years, at his side.
John was born in Kenosha to the late Chester French Allen and Margot (Drury) Allen. He graduated from Kenosha Bradford High School and earned his Bachelor's and Master's degrees from the University of Wisconsin–Madison, where he and Louise first met. John taught elementary physical education for Milwaukee Public Schools for 19 years. He worked in real estate and was an owner of a tax preparation franchise until he retired.
John was a member of St. Thomas of Canterbury Episcopal Church in Greendale for almost 50 years. He served in a variety of leadership roles in the parish.
He was passionate about sports his entire life, starting with high school baseball and football. As an adult, he spent many happy hours with friends on bowling, softball, and volleyball teams. His favorite pastime was golf. He joined Merrill Hills Country Club in 1976 (now The Legend at Merrill Hills) and recorded three holes-in-one over the years. John loved to attend Badger, Packer, Brewers, and Bucks games. It gave him great pleasure to invite family and friends along to join the fun. He enjoyed traveling and sharing meals with loved ones, and he had a soft spot for animals, especially dogs.
John's family was his highest priority. In addition to his wife, he is survived by his sons Jeff (Kim) of Kenosha; David (Lauren) of Encino, CA; and Matthew (Carla) of Waunakee. He was the proud and doting grandfather of Kerra, Jacob, Arielle, Jasper, Mason, Margot, and William.
Special thanks to the first responders of Muskego's Tess Corners Fire Department for their valiant efforts to save John's life. REST IN PEACE FELLOW CLASSMATE.