What's New
Posted on: May 04, 2021 at 3:33 AM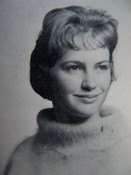 Posted on: Apr 24, 2021 at 3:33 AM
Happy birthday, Mary Camille! And many more.
Happy Birthday Mary! I hope you are well.
Posted on: Mar 14, 2021 at 12:26 PM
Happy Belated Birthday Jerry Sorry I missed it!
Happy Birthday Bill. I remember a few years ago we stopped in Naples just to say Hi! Hope all is still going well for you watching over the beaches. LOL! I am so amiss about not commenting on Paul's passing when I found out years ago! For that I apologize profusely. Paul and I go back a long, long way. I believe I Paul and his brother Jim back in 1956 or 1957.We hung around together with a bunch of guys - Ted Ott, Jake CramerJim, Paul and I. We kind of did everything together - go to Social Center, work on cars, date gals and go to school at Washington Jr. High and then - Bradford. We'd all walk to school together in the rain and snow until Paul got his drivers license - Then Jim and I would try to cop a ride from Paul in his 1953 Ford Convertible. That worked out ok until Paul got a girlfriend - then Jim and I walked! Went to his wedding, I got married and he came to mine. I lost track of Jim who took a job in Milwaukee and Paul who finished his electricians apprenticeship. and i got sick and was given 2 months to live! - Fast Forward- I got lucky and they found a cure for that deadly desease. I went to College at UW Stout and later moved to the East Coast where I still remain. Previous to my going East, Paul and I would go out for a few beers, go deer hunting every year and see each other now and then. I then found out about his death and it knocked me for a loop. I didn't write about it - I guess I was hoping it wasn't true! I missed the latet night TV shows with Paul, Jim, Donovan, Linda and Mary Lou - The popcorn, WGN and "Jim Moran - the Courtesy Man", the laughs and good times. I missed my friend Paul and I missed Jim - This whole families house was my second home! His sister "Bert" was great and His mom and dad were absolutely wonderful. I hope to see you again Paul - I hope I see your whole family again in heaven! Thank you for the good times, the laughs and just being you. I love you buddy!
The Feivors and I go way back sadly Paul left us so early though the memories remain RIP Paul.
Hey Jon, just thought I'd send you a Hello. Hope your all doing well!