What's New
It's always sad to lose a classmate. I remember Bill well.
Rest In Peace Bill.
Jerry
We were home room mates. I would love to see some of Bill's art . If that is possible. I am sorry for your loss. Bill had good sense of humor, if i remember correctly, it was almost 60 years ago since we graduated.
Suzanne (Olson) Knight
Hi Jeanne, I see you Birthday is coming up and thought I'd send you Birthday Wishes before I forget like I do everything else, lol. Hope all is well with you and yours. Stay safe!
Have a Wonderful fun filled Birthday and many more. Happy Birthday! Jerry
Posted on: May 27, 2020 at 5:43 AM
Happy Birthday Joe and many more! Have a Great Day!
By the way, Great Photos your posting.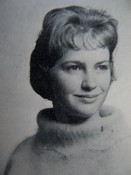 Posted on: Apr 25, 2020 at 8:48 PM
Jolene Langdon Odland
Thank you my friend! I enjoyed my birthday even if I was quarantine. Jerry and I celebrated our 55th quarantined wedding anniversary at the Spot!
Posted on: Apr 17, 2020 at 11:13 AM
Happy Birthday Jolene. Have a Wonderful Day! You and Yours Stay Safe!
Happy Birthday Barbara! Hope you have a Great Day!
Have a Great Day Jon, Happy Birthday. You and Yours, Stay Safe!
Happy birthday, Paula! Hope you're staying happy and healthy. Posted on: Jan 15, 2020 at 6:57 AM
Hi all! Sorry I haven't been on here lately - had three procedures on my back and it's finally getting better! Family is great, life is good and my wife Pat will be retiring in two months - she really enjoys her job and boss and would work until 75 if she could.! Got to get out to Wisconsin to see the rest of the family and have some great pizza, Italian Beef, malts and
a few other goodies! Have a great year in 2020!